All-on-4® dental implants from Hales Parker Dentistry in Ladera Ranch are advanced dental technology: a state-of-the-art alternative to conventional dentures.
The All On 4 Difference
With All-on-4® implant dentures, a full dental arch is placed on the upper and/or lower jaw. The arch is held securely in place with four dental implants: titanium posts that have been inserted into the jaw, where they fuse with the bone. This is what makes All-on-4® implant dentures so effective: when the implants have fused, it creates a rock-solid foundation for the prosthetic.
All-on-4® has been around for nearly twenty years. During that time, thousands of people have discovered their tremendous advantage over conventional dentures.
How Implant Dentures Work
With conventional dental implants, each artificial tooth is connected to an individual dental implant. This is effective, but it is also costly and invasive.
With All-on-4® dental implants, four implants are strategically placed in the jaw. They anchor a full dental arch (implant denture), resulting in a natural, seamless appearance.
Implant-supported dentures are permanent and cost-efficient. With upper and lower arches, patients regain virtually normal biting and chewing power.
Benefits of All-on-4® Dental Implants
All-on-4® implant-supported dentures from Hales Parker Dentistry in Ladera Ranch have many advantages over ordinary dentures. One of the most attractive is our big competitive advantage over other dental practices: we perform the entire implant procedure – from diagnosis to placing the implants (including 3D imaging), to placing the denture – right in our office.
Appearance. Patients regain a full smile that looks completely natural.
Healthy bone. An unfortunate consequence of missing teeth is jaw bone atrophy. By mimicking tooth roots, dental implants stimulate the bone to prevent recession.
Speed. Patients leave Hales Parker Dentistry with a fixed full-arch prosthesis on the day of surgery.
Function. Regain a strong bite: virtually normal biting and chewing ability.
Speech. Since All-on-4® implant dentures are physically attached to the jaw, there is no risk of shifting or slipping that can impair speaking ability.
Self-esteem. With restored, effectively normal teeth, patients enjoy improved self-esteem.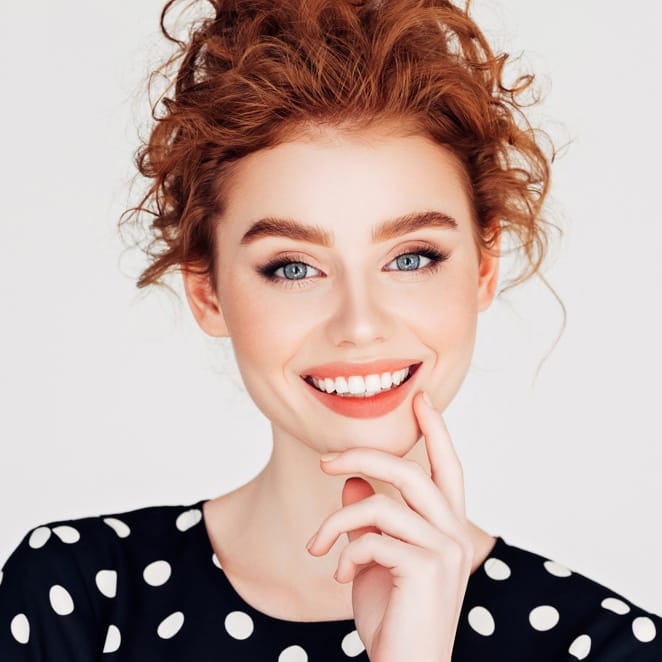 Do you want to improve your smile?
Do you have a dental concern?
Our online consults haven't stopped! We are working hard to make sure your dental needs don't have to wait! Connect with us today and get all of your questions answered for free in three easy steps.
Upload a smile photo or area of concern.
We will create a personalized video with recommendations.
View your video and schedule an appointment.
Implant Dentures vs. Traditional Dentures
All-on-4® implant dentures have many advantages over traditional dentures. For most patients the most important advantage is that All-on-4® look and function like natural teeth.
Other advantages include:
Longer lasting. All-on-4® implant dentures are built to last. Patients can expect them to last for twenty years or more. Conventional denture typically require relining, adjustment, and even replacement over the years.
Permanent. All-on-4® implant dentures are anchored to the jawbone and meant to stay in place. They are cared for like natural teeth; ordinary dentures must be removed for cleaning and sleeping.
More stable. Conventional dentures are held in place with a denture adhesive. This is not only messy and inconvenient; they are not as reliable, being prone to slipping and sliding while eating and speaking.
Improved chewing ability. Ordinary dentures provide substantially less chewing power: only about ten percent of natural teeth. With All-on-4® implant dentures, it is near-normal.
Am I a Candidate for All-on-4® Implant Dentures?
You may be a good candidate for All-on-4® implant supported dentures if you:
have healthy gums
are in good overall health
With some types of implant dentures, a requirement is enough healthy bone mass. This can be remedied with bone grafting, but All-on-4® requires less bone tissue. Patients do not usually need any grafting.
Get Started With Your New Smile
If you've lost your teeth and would like to regain the ability to eat the things you've always enjoyed – as well as your smile! – All-on-4® dental implants may be just what you're looking for. Contact Hales Parker Dentistry in Ladera Ranch for your consultation today.